How far are you willing to go to get a good cup first thing in the morning? An advertisement in a Starbucks like coffee shop used to read "People used to deal with getting shot at, facing the gallows, the dread of bandits and a journey through the desert to get their Arabica, all you need is to put up with Self Service."
To start with, the Capresso espresso machine, will give you not just a great cappuccino or conventional espresso from your favorite Arabica, but also just about any roast or blend that you can get your hands on. It is your very own Starbucks at home. Well, if you're a regular visitor at your nearest Starbucks, for 3 months worth of coffees, buy Capresso Ultima and have a 24/7 outlet at your very home for the amount you would save.
What is the Capresso Ultima?
It is the answer of your prayers… the product of your dreams. Well, exaggeration aside, the its a coffee maker for those who don't get it. For those who love their cappuccino, or a latte, or love to experiment with their coffee, the Capresso Ultima is your one stop shop.
It comes with:
A dual spout brew – so you can make 2 cups at once. That's a start
A Water-proof mechanism that needs no Tamping… all you get is lush, thick crema espresso.
A 53 oz water container that can make up to 30 espressos at a time – a great start
A steam wand with two settings for frothing as well as steaming milk – Nice!
Automatic disposal of the used ground into a well-hidden collector that requires cleaning only once a week unless you're running a coffee shop at home
Instant release mechanism to give you hot water for your tea, hot chocolate, café Americano or soup
An 18 bar ThermoCoil heating and pump system that is guaranteed to perform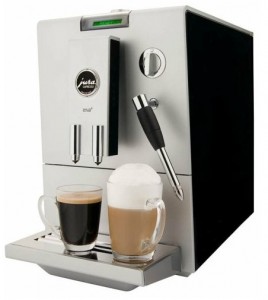 Well, this maybe a little tricky. A little but not too much – it comes with a nice little video and user manual that would guide you from the first step to the last in coffee making. However, the process is different and would be something you need to get used to if you have been using a percolator or a drip brew.
The Capresso Ultima can use anything from flavored coffee to slightly fine-ground powder and give you the best possible flavor and aroma of a espresso machine, be it home-style or professional. With the steaming and frothing attachments you can make your favorite coffee anytime of the day
Pros:
Ease of use, semi automatic
Makes 2 cups at a time
Can dish out an espresso every two minutes
Frothing and steaming is a breeze
Doesn't require frequent cleaning
Compact and stable
Cons:
The process takes getting used to
Requires a bit of precision handling to prevent water leaking into the milk
The cup for the ground is large, so it might take a while before you get the proportions right
The Capresso Ultima is a brilliant addition to your home as it can give you the best coffee you would ever taste, every single time you turn it on. It is lightning fast when compared to most other systems. Thus even if you have guests at home, you won't have to make them wait.
Given the price of a Capresso coffee maker, it will redeem itself with just about 3 to 4 months, even if you make a single cappuccino a day. However, if you are planning to buy capresso ultima semi automatic coffee maker, plan to relearn how you make your coffee because this machine is a whiz but one that takes a bit of learning and getting used to.